What to Expect as an SP Screens Customer
Thank you for choosing SP Screens. Here is what to expect from SP Screens in three easy steps as we work on your custom order.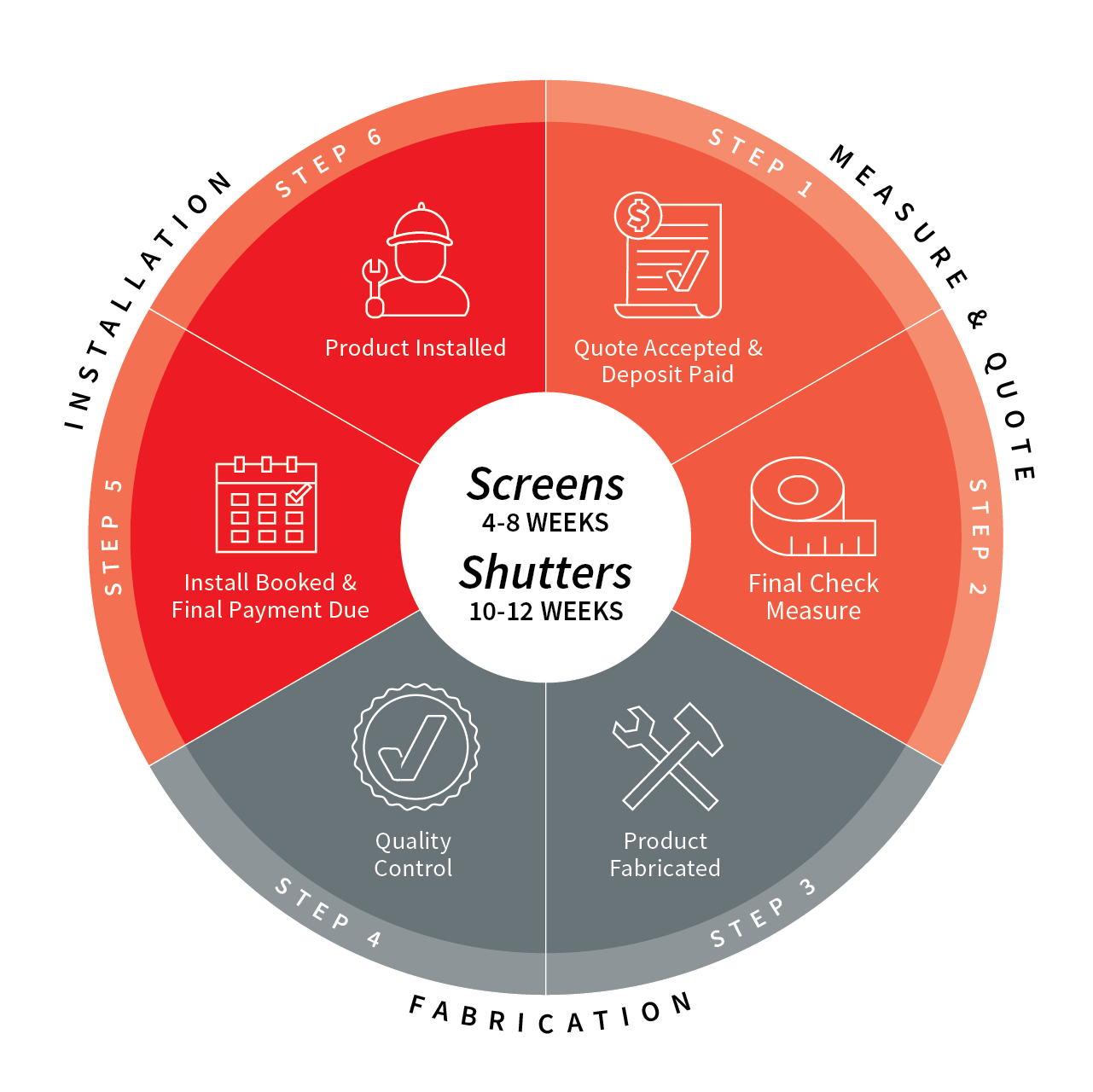 IMPORTANT NOTE: The time frame from quote acceptance (deposit paid) to installation will vary depending on the products ordered and the time of year your order is placed. To track your order, contact our friendly Customer Service Team on 1300 939 700 or salessupport@spscreens.com.au
MEASURE AND QUOTE
Step 1 – Quote Accepted and Deposit Paid
Please make sure you are fully aware of product warranty terms before you accept our quote as our products require regular care and maintenance as part of warranty conditions. Find out about warranty & maintenance details here. After accepting our quotation, your 50% deposit will be processed.
Step 2 – Final Check Measure
An installer must undertake an accurate check measure on site to ensure all measurements are correct before fabrication of your custom order can commence.
FABRICATION
Step 3 – Product Fabricated
Your order is custom built to your specified size, colour and accessory requirements in our factory.
Step 4 – Quality Control
Once your bespoke product is complete, our quality control team must "pass" your order to ensure it meets our strict quality standards before we can book in your installation.
INSTALLATION
Step 5 – Install Time Booked In & Final Payment Due
Prior to your installation, you will receive an SMS advising the time bracket for installation. Your final payment is due on installation so please have your payment ready.
Step 6 – Product Installed 
Our security licenced installers will install your custom made screen or shutter to the highest standards and clean up after themselves. If your installer is running late due to the installation job before yours running over time, they will call to inform you.
Frequently Asked Questions (FAQs)
Why do my screens and shutters take so long?
As opposed to off-the-shelf DIY flyscreens and plantation shutters; custom made screens take time, but the final result is worth the wait. An experienced installer takes precise measurements so that the product is fabricated to your specific requirements as well as meeting Australian standards and then passing our own strict quality control. Custom made screens and shutters will fit your doors and windows perfectly and a professional installation will ensure your screens and shutters look great for many years. Every door and window size is different, even standard size frames may drop or expand in any area around the frame over time which is why custom made screens and shutters look so much better than DIY.
What is quality control?
Quality control is our final process of checking that your custom made screen or shutter has been fabricated to the highest standards before installation can take place. During the quality control process we are checking the colour, size and quality of your screen or shutter is perfect and that the product has no blemishes or damage from transit.
Why do your installers have security licences?
As the experts in security screen doors and windows, SP Screens holds a master security licence and ensures that all our installers hold all required licences for their state. In NSW, Security Screen Door and Window installers must hold a Security Licence issued by NSW police. This ensures that a background check has been done on any person installing security products in your home or business.
What to do if your installer does not turn up at your appointment?
Firstly, check your phone for a message from your installer. If an installer is running late from a previous appointment they will call you to advise of their delayed ETA. If you have received no communication from your installer please call our friendly customer service team on 1300 939 700 and they will chase our installer to inform you the reasons and ETA of the delay.