23 January 2017
5 Reasons to Put a Screen Door on Your Baby's Room
Screen Door in Baby's Room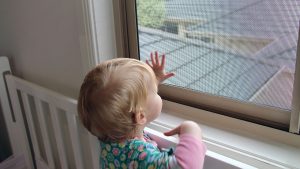 Are you nursing a newborn or have a younger child in the family? We always want to protect our children, especially within the home. You may not have considered it, but a screen door for the inside of your home leading into your child's room may be one way you can protect them from certain nasties, and keep their room as a small little haven for them. There are a few different reasons why you may want to incorporate an interior screen door into your baby's room or nursery, and all are rather good reasons to go ahead and get one installed as soon as possible!
Keep the pets out
If you have cats or dogs in the home before your baby comes along, chances are you may want the baby's room to stay pet free, until at least the pets are used to the new family member. Keeping pets out of the nursery also means there will be less pet dander in the room, as well as any pet nasties, such as fleas. Sure, you may think closing the door is a good idea, but a screen door allows you to still see your pets outside of the room if you're in the nursery with your child. Plus, you won't be restricting any air flow into the room by allowing the door to remain open. Keeping pets out, especially cats, means that the door can stay open whilst your baby sleeps, and your pet isn't likely to go in and cuddle up to your baby (especially when SIDS may be on the back of your mind, especially during your baby's first year).
Air flow
As mentioned briefly, you can keep the room closed off from certain people and pets without restricting air flow. Especially during the warmer months, you will want to ensure there is good air flow going into the nursery to keep the room at a good temperature for your child. This is also important for if you have an air conditioner in the warmer months, or a heater on in the cooler months, and you want some of that air to go into the nursery. Keeping the temperature right in the nursery means you're going to have a happier baby. Humidity can be a real problem in rooms that are closed off, so a screen door used instead will be ideal to keep air flowing.
Add a nice look
As well as being a convenient addition to the room/house, adding a screen door to the room actually can look very cute and add a special 'homely' feeling to the entrance of the room. With so many styles of screen doors to choose from on the market, you'll easily be able to have a screen door installed to go with the decor of your baby's nursery. It's also an easy way to section off the room from the rest of the home to allow it to look like it is it's own section, away from the hustle and bustle of everyday life.
Keep the bugs out
Just like you would have a screen door for the front door, a key reason to add a screen door to the baby's room is to keep bugs out. As the warmer months are upon us, so are bugs like flies, wasps, bugs and moths. Keeping bugs out of the nursery is always going to be the best course of action, as pests are usually prone to carrying a range of diseases, which can be avoided with a suitable interior screen door. Screen doors are the perfect interior solution to keeping pests out of the nursery. Even when you have screen doors on the exterior doors, pests always manage to get in somehow. This will minimise the chance of pests like bugs and flies getting into the nursery with a secondary screen door inside.
Added privacy
Having a screen door installed on the entrance to the nursery can add privacy, even though you can see through certain screen doors. Parents are able to close the room off for the nursery at times, such as when the child is sleeping. Visitors can see into the room, but it is implied not to enter if the door is closed. However, because it is just a simple screen door, parents are able to listen out for any disturbances, and can check on the child at various times.
Screen doors for kid-friendly safety
An interior screen door might seem like a bit of an odd choice to begin with, but when you think about it, it's actually a foolproof option for those with pets who are wanting to keep bugs out of the nursery. Baby gates are good in some circumstances, but these don't stop many pets (such as cats that like to jump and climb), nor does it stop pests from flying in. For the perfect solution, invest in a screen door for your interior and your baby's nursery.