07 September 2016
The Benefits Of Retractable Screen Doors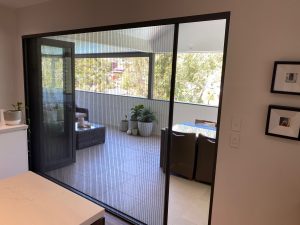 If you're building a new home or looking to re-design your existing home, the doors you choose can effectively rejuvenate and modernise your home in an instant.  Retractable screen doors are the perfect option for anyone hoping to achieve just that. They're ultra modern, attractive, customisable, and enable you to create a seamless transition from the indoors to outdoors.  Let's take a more in-depth look at the benefits of retractable screen doors and why you should consider incorporating some into your home.
Low profile bottom rail
Don't you hate it when you're walking back inside the house after sitting in the yard with nothing on your feet, and as you step inside you whack your feet on the rails of the sliding door frame? One of the nicest things about retractable doors is their low profile bottom rail, which create less of a tripping hazard and have much greater visual appeal.
Universal installation
Because these doors are customisable, this style of door can be installed for almost any sized and shaped door frame. Installation is quick and easy, so you can be rest assured that a retractable screen door will fit wherever you want it.
It suits all doors
A lot of people use retractable doors for the back door going outside to their yard or deck area, however there's no reason why you cannot use a retractable design for the front main door or doors leading to balconies or separate decks.
Let fresh air in, without also inviting insects
Especially in the warmer months, it's always nice to let a breeze through the whole home. Retractable screen doors let air into the home, while keeping nasty bugs and insects out.
Save on energy costs
When you're utilising natural breezes to cool the home, you're less likely to need air conditioning and other energy dependant cooling equipment. This will lead to a reduced power bill and more energy efficient home overall.
Magnetic lock
The latch system on retractable doors usually includes a magnetic closure system. This means it's easy to ensure you're locked up safely and securely. These locks are also great news for those living in coastal areas as they're corrosive resistant, and therefore able to withstand the trials of higher levels of salt in the air.
Long lasting
Retractable screen doors are built to last. They're made with sturdy, long-lasting materials designed to withstand the test of time. Even after a few years, your retractable doors will still be as strong as ever.
They're affordable
A very affordable option for your renovation or build, retractable screen doors are the perfect home addition. Considering the materials used to construct them, the customisation options available and the amount of time they last with good care, retractable doors are a great way to modernise your home at a decent price.
They won't hinder your sight
Some doors will hinder your views to the outside yard and any other scenery, which can be bad for both your daily enjoyment and the resale value of the home. Detracting from any views is always a bad thing, and installing doors that let in maximum amounts of light and air, and don't cause an obstruction to your views, is always going to be a major positive.
It's always important to take into consideration what size door frame you have, what style you wish to create, the overall design of the home, and what kinds of doors you enjoy the look of.
Retractable screen doors are in most cases a great addition to your home, no matter what kind of look you want to achieve. They're easy to use and install, can reduce your power bill, they look great, and can be easily used with a number of different door types.
If you're thinking about installing new doors, make sure you take a look at retractable screen doors and consider everything they have to offer.