01 December 2021
Window safety: A guide to childproofing your windows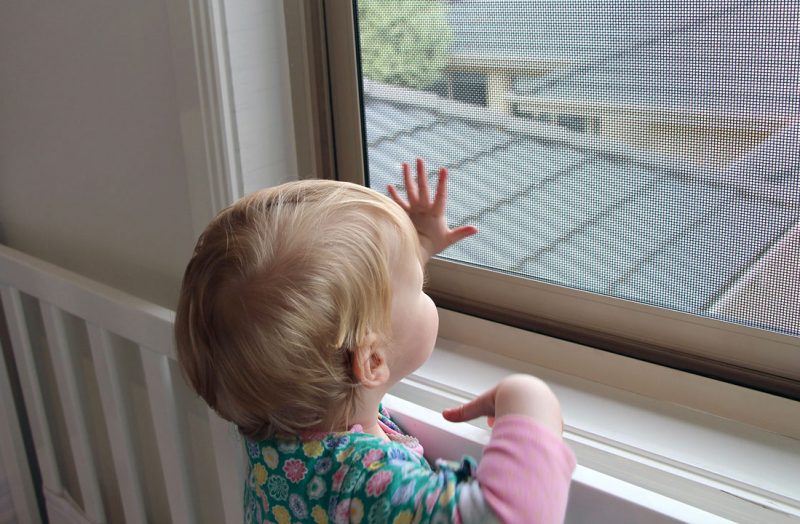 In 2011, alarming statistics found that one child fell from a window each week in Australia. According to the 'Kids Don't Fly' working committee report, these falls were often in their own home. In some cases these window falls resulted in serious injury or death. This prompted the 'Kids Don't Fly' campaign in an effort to keep children safe around windows, resulting in lifesaving products such as Kids Fallsafe Screens.
We know parents want to do all they can to keep their kids safe, so we developed this window safety guide. It's full of childproofing tips to help keep your loved ones safe around open windows.
Window regulations NSW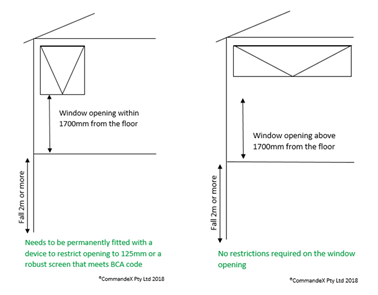 There are legal requirements in place that apply to strata buildings in NSW and new buildings, designed to improve child safety.
In some cases, the device or screen may be removable if there are no climbable elements below 760mm from the floor, but if so must have a child resistant release mechanism. For more information on the code and the class of buildings it relates to, visit Australian Building Codes Board.
New window safety laws were introduced in 2013 with a 5 year implementation plan to help prevent children falling from windows. Law came into effect in March 2018  to ensure all strata buildings in NSW are fitted with protection screens or devices that lock window openings above ground floor to less than 12.5cm (representing the size of a young child's head).
Second story windows in newly constructed houses are to be fitted with devices to restrict the window opening more than 12.5cm. The National Construction code requires that windows in bedrooms where the floor level is greater than 2 metres above the outside surface are fitted with protection by either;
Restricting the opening to less than 12.5 cm or
Installing a certified Fall Prevention Screen
Window screens should be able to withhold 25kgs of pressure in three different points from the inside. Flyscreens do not comply with this code.
More information on the new National Construction Code of Australia (NCC) legislation can be found at the NSW Department of Fair Trading website.
How can I keep my kids safe?
If the above laws don't apply to you, you can still install safety devices as an owner-resident, landlord or tenant. Tenants need to get written permission from the landlord to install safety devices, and reach an agreement on who will pay for it, and what will happen to the safety device once the tenancy ends. Here are some products that you can use to stop windows from opening more than 12.5cm and prevent window falls are:
Fixed window screen– Professionally installed and certified to withstand withhold 25kgs of pressure in three different points from the inside.
Key-operated window locks– Attach the device to the window frame with screws. It can be mounted to keep the window from opening more than 12.5cm. You can unlock the device with the supplied key.
Window guards– Fix the guard mounts to the window frame with screws. Window guards can help protect the opening, but make sure they have release buttons so they can be removed quickly in an emergency.
Window restrictors– Attach the device to the window frame with screws. Window restrictors can be unlocked with a key and then disengaged to open the window.
Safety nets– Fix the anchorage to the entire window frame with screws and then hook the nets onto the anchorage. In an emergency, you can remove the netting from the anchorage system.
Window wedges– Apply the loop strip on the window frame and then attach the wedge to the strip. You can adjust the wedge on the strip for desired opening. You can also use it to prevent your child from opening the window by 'wedging' it shut.
Window guards and window restrictors can be installed on the following types of windows: single and double-hung windows, sliding windows, casement windows, and awning or hopper windows. Safety nets, key-operated window locks and window wedges can only be installed on single and double-hung windows and sliding windows.
More tips to prevent falls from windows
If you live in a multi-storey house or apartment you can prevent window fall injuries and tragedies by childproofing your windows. In turn, you can give yourself peace of mind that you'll be keeping your kids safe.
Here are some other ways to prevent your kids falling from windows in your home:
Supervise your kids when they're near open windows.
Keep furniture such as sofas, chairs, tables, beds, cots, etc. away from windows. Your child can climb and stand on them to access the window.
Keep light objects such as empty boxes or books that can be stacked up to form a ladder away from windows.
Don't use fly screens, as they're not strong enough to stop your child falling out of an open window. Fly screens may keep bugs out, but they won't keep your child in.
Lock windows that aren't being used.
Install windows that open from the top.
If you have casement windows, remove the crank handle to keep the window closed. Make sure to screw it back in when you want to open the window.
Teach your kids to play away from windows.
How can kids play safely around an open window?
With an SP Screens Kids Fallsafe Screen you can fully open your window and enjoy that extra peace of mind. They're a great choice for bedrooms and high traffic areas where you would like to fully open your window while kids play.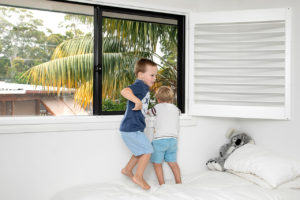 Our Kids Fallsafe Screens comply with the requirements of this code and can be tested for certification during installation to ensure the perfect fit on every window. Our security screens have also been independently tested to comply with the Australian Security Standards 5039, to provide both safety and home security.
Our Kids Fallsafe Screen is custom made in Australia and suitable for any window setting that allows for a fixed security screen.  With the option of two security screen window systems, you can be confident in finding a fixed security screen to suit your home and budget. So, why not replace your fly screens with our fall-safe screens for peace of mind. Book your appointment online for a free measure and quote.