What Doors are Best for Security?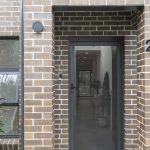 So what doors are best for security?  We all want our home to be a safe place that we can relax without fear of a break-in.  We also want our home to look great and be a reflection of our personality.  There are so many options for security doors on the market because different security doors complement different house facades.  There are three types of secure doors which are best for security: Stainless Steel Security Screen Doors, Perforated Aluminium Security Screen Doors & Traditional Steel Bar Doors.
You will notice that Diamond Grille doors do not make it on the list as being the best choice for a security door.  This is because technology and design has come a long way since the early 70's when diamond grilles were a popular choice for home security.  An important point to note regarding security doors is that they must be fitted with a triple lock as a single lock is much easier to break and offers lower security.
Stainless Steel Security Screen Doors
Stainless steel mesh security doors are considered a premium security product for homes.  They look sleek like a modern flyscreen however; they offer premium security which flyscreens do not.  You cannot cut through stainless steel woven mesh wire like you could cut through flyscreen.  The black powdercoated mesh wire provides a tinted view through the door screen.  The aluminium frame can be colour matched to your door frame which means it will suit any house façade.  The security screen is often used as a front door screen or on sliding doors as the stainless steel mesh looks very sleek and modern offering optimal security.
Perforated Aluminium Security Screen Doors
Perforated aluminium security screen doors are an aluminium sheet which has small holes (2.20mm) punched in it.  These holes allow for airflow and a tinted view through the screen door.  Perforated aluminium screens are priced similarly to diamond grille screen doors however; they are a more modern choice and offer better security.  The aluminium frame can be colour matched to your door frame.
Steel Bar Doors
Steel Doors give a home's façade a more traditional look.  Steel Doors come in many designs however, there is also the opportunity to make your own custom design for a more individual look.   These Security Doors not only have the appearance of strength and power they are a very secure door.  Steel Bar doors can be colour matched to your home and can be fitted with a flyscreen or security mesh to keep bugs at bay.
SP Screens Can Help Choose the Security Door Best For Your Requirements
SP Screens has sales consultants along the east coast of Australia from Sydney to Brisbane who are ready to help. They have many years of experience with installing security screen doors to meet Australian security standards.  You can book your free in-home consultation directly from our home page and choose a time and date convenient to you. Alternatively you can call SP Screens on 1300 939 700 and our friendly customer service team are happy to help.