05 November 2019
Screening a Transterior Space With a Retractable Fly Screen
Retractable Fly Screens lend themselves to the 'transterior trend' in architecture which continues to gain momentum with homeowners looking to seamlessly blend their indoor and outdoor spaces. Wide span / Large doors are often used in conjunction with other natural elements, such as plants and textures, to achieve this design feature. They work well because you can open the doors and immediately connect two spaces, and when closed the glass expanse visually creates an open area to bring the outside in.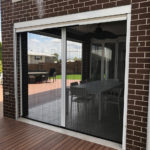 What sort of flyscreen is best for a transterior space?
Unfortunately, insects and creepy crawlies come hand in hand with living in our beautiful country. And while it's great to fling open the expansive doors to connect your indoor and outdoor living spaces, it's a good idea to install a suitable fly screen that gives you functionality without impacting the flow of your interior design elements.
With so many screens on the market, it can hard to know what to look out for and determine the best type of screen for your home. Retractable Flyscreens are great for screening large openings and hard to screen areas such as Bi-fold doors, French doors, Stacker doors, Pivot doors, Awning windows and Casement windows.
What is a retractable flyscreen?
A retractable flyscreen does exactly that…retracts. When opened, the screen rolls back into a cassette, very much like a blind. Pleated fly screens work in a very similar way.
What's the difference between a smooth retractable screen and pleated retractable screen?
Smooth retractable fly screens and pleated retractable fly screens are similar in many ways, but there are a couple of key differences.
| 1 | 2 | 3 |
| --- | --- | --- |
| Features | Smooth retractable screen | Pleated retractable screen |
| Retractable mechanism | When opened, the screen rolls up into a cassette – operates just like a blind. | When opened, the pleated screen folds back in a concertina manner – think of an accordion. |
| See-through visibility | Great, as it's just one wide piece of flyscreen. | Good. You have see-through visibility, however the pleated screen has a sheer curtain affect and may offer a feeling of privacy. |
| Pet friendly | This will depend on the nature of your pet, however they are generally not suitable for cats. | This will depend on the nature of your pet, however they are generally not suitable for cats. |
What are the benefits of smooth or pleated retractable flyscreens?
Retractable screens are fantastic for screening wide or tricky spaces, including bifolds, commercial doors and french doors.
They have a wide span using a single piece of mesh without sectional frames obstructing the view.
When opened, they retract into a small cassette hidden from view.
You can part open it to let kids and pets in and out.
Keeps insects out.
Integrates with your door system.
How do I know if a retractable or pleated screen is suitable for my place?
Retractable screens have so many benefits, but they're not always suitable. Retractable flyscreens are naturally not rigid like security screens and hence more vulnerable to damage when in the closed position (across the opening). Please be aware that a pet or person (particularly a child) walking or running into a closed retractable screen could potentially brake the cords or fabric.
Some things for you to consider are:
What sort of door and frame do you have? If you have stacking sliders, a retractable may be awkward to reach.
How will the screen work in conjunction with the door?
Do you have young children? Depending on the age and vibrancy, they could damage the screen
Do you have pet, particularly cats? Cats will likely scratch the flyscreen.
How much are retractable flyscreens?
The cost of retractable flyscreens will vary greatly depending on the size of the opening. At SP Screens, a standard colour, standard size (1100 x 1000mm) start from $850.
How to maintain a retractable fly screen
Clean the top and bottom guides to maintain smooth movement
Dust and debris can collect in the aluminium guide channels over time. Removal of such build up is easy and important to ensure the screen's smooth movement. While the screen is fully retracted, remove any dust or debris with a soft cloth or a vacuum cleaner with a soft brush nozzle. Dusty or coastal environments will require regular cleaning.
Cleaning the screen mesh to maintain an unobstructed view and airflow
While the screen is fully extended, remove any build up with a vacuum cleaner that has a soft brush nozzle, care should be taken not to tear or rip the mesh.
Click here for detailed cleaning instructions for both smooth retractable flyscreens and pleated retractable flyscreens.
SP Screens' talented group of installation experts can make your retractable fly screen fit to almost any window or door style you can find for us, and we love a challenge. Pay us a visit, or give us a call, and arrange your obligation-free consultation.