How to Child-Proof Your Home and Make it Kid Friendly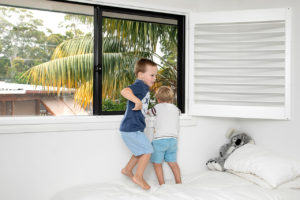 The average home can be a dangerous place for young children, with many things we consider to be 'safe' actually posing a very real threat to the safety of young children. It's important to make sure that you're aware of any potential dangers. Ensuring that your home is child-friendly doesn't need to be a difficult task – there are a number of things that can be done in each room to child proof your home and make it kid friendly and safer for young children, and following a few general tips can help keep your home child-friendly and safe.
The first thing to do is put yourself in the frame of mind of a child, looking at your entire home and identifying what could be attractive yet dangerous to a child. It may help to even get down on your hands and knees, as silly as it may seem, so that you can see things from their perspective. Once you've scoped out your household from front to back, you can then implement specific initiatives to keep your home safe for children.
Appliance cords
Electrical appliances will no doubt come with an array of exposed cords, over which children can easily trip over. Kids may also try to play with these electric cords, and could end up injuring themselves or the appliance in the process. Make sure that cords and appliances are completely out of reach of children.
Power outlets
There are power outlet covers that are designed to prevent your children from putting their fingers into electric sockets. However, these covers or their plug-based versions can still be removed by a child and end up as a choking hazard. The most prudent approach, should you wish to ensure the utmost safety, would be to replace power outlets with integrated sliding units.
Furniture
Children love to play on furniture, and their imaginations are often boundless. Too many kids end up in hospital after mishaps with large pieces of furniture, whether it be from them falling off a piece of furniture, or a piece of furniture falling on them. To child proof your home, bolt furniture items such as bookcases and dressers to the wall so as to make sure they don't fall over if your child tries to pull on or climb them.
Televisions, lamps, and other items are also easily pulled or pushed off the edge of the tables. Ensure these are out of a child's reach and placed behind other items to make it more difficult for your child to get to.
Drawers pose another problem as they can injure small children's nimble fingers, as well as provide a ladder for climbing onto much higher surfaces. Childproof drawer guards are an important and useful investment that can save your child having any mishaps.
Finally, almost all furniture has a sharp edge, so it's vital that you cover corners with padded guards or bumpers to prevent injury. It's almost inevitable that your child will bump into a corner at least once.
Gates
Gates are an effective way of stopping your child from entering certain areas that may be high risk. They're also a good way to keep children in a room when you want to keep a closer eye on them. Wall mounted gates are the safest for use. Pay particular attention to the slat design, as this can become a real strangulation or entrapment risk.
Blinds and curtains
If your curtains tie up with a rope, ensure this is shortened or stored out of reach as it could pose a strangulation hazard to your child. Cordless blinds and curtains are the best option to child proof your home when there are kids in the house, but if this isn't achievable then make every effort to shorten cords and keep them out of the way.
Doors and windows
Windows are an extremely dangerous part of the home, as children can easily fall out of them. This doesn't apply to low hanging windows, as children can attempt to prop themselves up or climb onto pieces of furniture to reach window height (their natural curiosity draws them to wanting to look outside). Window stops are an effective way of ensuring that windows cannot be opened more than a few centimetres, stopping a child from falling through a gap.
Fall Safe Window screens are another effective solution in preventing accidents with children. Window screens are a great idea when you want the window open the whole way to let in air and light, but without posing a risk to your child.
It's also important to ensure that furniture is not placed within reach of a window, so that children don't get the idea to climb onto them and look out the window.
Doors can also easily trap the hands and fingers of children in their hinges, causing serious injury. Door holders can help prevent these injuries associated with hinges. Fly screens are also important for door safety, as they can stop children from exiting an area and exposing themselves to greater dangers.
Toxic substances
All poisonous products and medicines must be kept locked away out of children's reach. Children naturally like to explore and try new things, and a child taking the wrong medication can have a fatal result. Don't give your kids the opportunity to interact with any harmful substances, whether they be cleaning products or medication. Pay particular attention to potentially hidden poisons such as lead paint and carbon monoxide.
Pools
Pools must be fenced off by law, with child safety locks placed on the doors to ensure that children cannot enter on their own without an adult's presence. Drownings are a common contributor in child fatalities, so it's vital that you have the appropriate fencing in place to child proof your home.
Fire safety
Ensure that all heaters have protective screens and are wall mounted. This will stop children from accidentally burning themselves or moving and interfering with the heaters. Consider fencing these areas off, particularly if you're using a heater with an exposed heating surface. Smoke alarms should also be installed in each room, with a fire extinguisher and fire blanket handy for general family safety.
Ensure you have a clear fire escape plan for each room of the house, to prepare for a quick escape from the house in the case of an emergency.  Fire Escape Security Screens on windows are a great way to ensure your windows are secure from the outside but can be opened from the inside to climb out.
Loose items
A lot of everyday items that we consider normal and safe are actually hazardous to children, such as small items, scissors, knives, and any sharp objects. Keep the home tidy and keep all dangerous and small items locked away and out of reach.
Childproofing your home is not a difficult task, but one that requires particular care and attention. Remember that you will need to update your childproofing measures as your child grows, as gates that previously kept them out of forbidden areas suddenly become easier to climb over. It's important to remain proactive and vigilant so as to ensure that your home remains a safe environment for your family and children.