07 April 2020
How Do I Secure My Apartment Doors and Windows?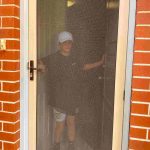 At SP Screens, we're passionate about making people feel safe, secure and comfortable in their own home. To help you navigate your apartment's security, we've put together a guide on how best to secure your apartment doors and windows with security screens.
Which apartments are most at risk of break ins?
Units on the first few stories of a complex are at greater risk of burglary. Not only are they more easily accessible, but they can be looked in on and opportunistic burglars can see valuables through windows.
Security Options for Apartment Doors and Windows
While there various ways to secure your apartment doors and windows while closed or open ajar (such as deadlocks / window locks and using broom sticks in door and window tracks), this offers little ventilation.
Benefits of Installing Security Screens.
Security doors and window security screens are the ideal option for security conscious apartment living with a range of benefits:
Full security whether you're door or window is open or not
Leave your doors and windows open and enjoy fresh air and ventilation
Legally be able to open your window more than 12.5 cm
Great see-through visibility makes them a great alternative to bulky steel security grilles
Keeps insects out
Adds value to your home
Balcony door security
There are a range of aluminium security doors suitable for balcony doors. Security screen doors allow you to keep your balcony door open for ventilation with peace of mind.
| 1 | 2 | 3 | 4 |
| --- | --- | --- | --- |
| | | | |
| Hinged door | French door | Sliding door | Stacking sliding door |
Window screens
Security window screens come in a range of styles and sizes to suit all windows.
| 1 | 2 | 3 | 4 |
| --- | --- | --- | --- |
| | | | |
| Sliding Window | Single or double hung | Awning window | Casement window |
Security screens provide full security from the outside as well as keeping your loved ones safe from the inside. The type of protection screen you choose will ultimately depend on your window location.
Windows on the ground floor allow for a range of window security screen options. It may be possible to install a fixed window screen (most common) or a hinged or sliding Fire & Emergency Escape Screen which allows for a quick, keyless escape in the event of an emergency.
For windows on the second story and higher, you will need a fixed window screen that is certified to double as a fall prevention screen.
For more information on window regulations for strata complexes, read our blog Window safety: A guide to childproofing your windows.
Home security for owners
Whether your apartment is owner occupied or rented out, security screens are a great long-term investment.
Security screens can contribute to higher rental returns in a high market and also make a property stand out when comparing two similar properties in a down market. If major improvements have been undertaken in your apartment, speak to an accountant to have these items included in your depreciation schedule.
Home security for tenants
If you are renting your apartment, read our blog What You Need to Know about Installing Screen Doors in your Rental Home for guidance.
If you are unable to negotiate security screens, then it is good practice to follow these general security tips:
Secure your sliding doors and windows shut with a length of wood in the track to prevent the window from sliding open.
Don't leave valuables in full view of a window. Opportunistic burglars may see this and force entry.
Where possible install additional door and window locks.
SP Screens provide home security to customers along the east coast of Australia from Sydney to Brisbane.  You can book a free in-home consultation online, choosing a time and date convenient to you, or call SP Screens on 1300 939 700.