17 December 2020
How to Install a Security Screen Door
Installing a security screen door is a job for an experienced DIYer. This is a DIY project where you will need a second pair of hands to help you to install the security door.  There are a number of fiddly steps that need to be done accurately in order for the door to fit perfectly s0 be prepared to embark on an advanced project.  Even the strongest security door isn't going to provide security if it isn't fixed to the door frame properly.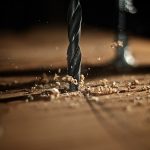 DIY Installation of a Security Screen Door
Here is a quick overview of the steps required for installing a security screen door so you can decide whether this is the DIY project for you.  It is important to recognise early on that a failed DIY project can end up costing more than hiring a professional like SP Screens so its important to be confident in your advanced DIY skills.
Measure the height and width of your doorway
Decide if your security screen door will be hinged on the right or left
Attach the lock and handles
Measure and mark for the hinges (this is a two person job)
Ensure the door jamb is square
Pre-drill and screw in the hinges
Mark out the striker on the door & door jamb
Drill holes and attach the striker
A strong installing a security screen correctly is essential if it is to offer effective protection to a home.  Installation can be frustrating and time consuming.  However, with the right tools, patience and man power, you can ensure a strong installation. If you intent to build your our security screen door you can buy all necessary components and accessories from www.buyalength.com.au
Or You Can Hire a Professional
If these steps look complicated and a lot like hard work then a better solution may be to call a professional security screen company like SP Screens.  SP Screens installers are security licenced and ensure a strong installation that meets Australian Security Screen Door Standards.  Contact SP Screens for a free onsite measure and quote at 1300 939 700 or www.spscreens.com.au