17 September 2020
DIY vs. Custom Made and Professionally Installed Security Screen Doors
It can be very tempting, and at times, rewarding to attempt a Do It Yourself project. But, is attempting a DIY security screen door the best idea? When it comes to getting a properly fitting security door, a DIY approach may not always be the best option, even if it appears to save you money.
What's The Price Difference Between DIY And Professionally Installed Security Screens?
How much does a DIY security door cost?
Prices vary between suppliers and there are a range of barrier and security doors available through hardware stores and online security door suppliers. We'll explore the different levels of security later in this article.
Barrier doors, like diamond grilles available in hardware stores, start from around $150 and steel doors can vary in price from $250 – $650 depending on quality of materials.
Standard sized perforated aluminium security doors start at around $450, whereas stainless steel mesh security screen doors start from around $570.
How much are professionally installed security screen doors?
Again, prices vary amongst suppliers and will depend on the materials used, but you can expect to pay between $900 to $1200 to have a triple locked, standard sized stainless steel mesh Security Screen Door custom made and professionally installed (Hinged or Sliding).
You can find out more about the variables in costs for custom made a professionally installed security door in our blog 'How Much Do Security Doors Cost?'.
On the surface, it may seem like you will save some money by installing your own security door. But, because you'll be installing the door yourself, the quality of the end project really all depends on you and your expertise as a DIYer. You might succeed, but if you don't, costs could add. Consider the cost of buying tools, templates, wedges etc for installation or in the unfortunate event that you don't succeed, you may end up paying more if you need a new door or a reinstallation in the future. The success of the security door in keeping intruders out is highly dependent on the quality of its installation.
Instead, if you go through a reputable installer, you will pay more, but you're paying for higher quality materials and the labour costs for the installer to correctly install the door.
DIY Security Door Installation vs Professional Installation
Although you might think you have a nifty project on your hands that will save you some money, the truth is it's one of the trickiest projects you could undertake – and one we urge you to reconsider.
For the record…it's not easy to hang any type of door, especially for the novice DIYer. For example, a pre drilled hole for a screw in the wrong place can compromise the whole installation if it adjoins the correct screw placement, and may mean you will require a new door jam.
Even the strongest security door isn't going to provide security if it isn't fixed to the door frame properly.
Difficulty with DIY installation
Depending on your door, the frame and the doorframe size, you may have difficulties installing your own door, especially if you don't have a helping hand. Although it may look like a simple job, if you have a doorframe that isn't exactly square or if your door size means you need a custom sized screen door, you may find that the job starts to get a little complicated. Of course, an experienced DIYer will be able to complete the job, but if you don't have much experience, you may find the job rather complicated.
You may be drilling holes in the wrong places and setting up everything so it doesn't fit properly. Too many mistakes, and you'll have a door jamb that may need repairing or replaced, not to mention an ill-fitting screen door.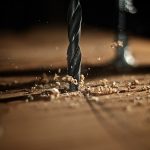 When installing a security screen door, extra care needs to be taken with:
Lining up the locking points and strike plates
Drilling the screw holes for the hinge
Levelling the door and ensuring the hinges are aligned so that the door closes precisely within the door jam
Anyone in the Building or Building Products industry will tell you that miscalculating by even 1mm is a big deal.
If you are in need of a custom sized security screen door, you may find that you have gaps where you shouldn't have gaps. Not only will it look odd and not sit correctly, but it's also not going to provide you with the security or pest control that you need in a security door.
What are the benefits of a professionally installed security door?
You don't need to buy any additional tools
Deal with experts in their field from a reputable company
Your doorway is measured by an expert
The security door is custom made to precise measurements
Your security door will be guaranteed to fit securely and last years – check each supplier's warranty
If for any reason there are product defects or it isn't installed correctly, you'll be able to get a new product installed.
How to Ensure You Buy and Install a Security Door
Australian Standards 5039:  Security Screen Doors and Security Window Grilles:
When buying a security door, beware of 'made to conform to Australian Standards'. Instead, look for 'tested to meet or exceed Australian Standards 5039'. The difference is that the latter has had their security screen system independently tested to meet Australian Standards 5039 and has achieved certification.
AS 5040: Installation of Security Screen Doors and Window Grilles: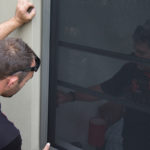 This standard provides installers of security screen doors or window grilles with specifications covering the general requirements for installation. Make sure that your installer is licenced. Reputable installers will be licenced to install security screens to Australian Standards. If a product is not installed correctly then it will not be secure.
Why a Professional Installation Will Win Every Time
Although installing your own security mesh screen door may be a rewarding project, it may not be the best option if you're looking for a secure door to keep unwanted guests out and last you years to come.
Not only will a professional like SP Screens know which door is best suited to your needs, but they'll be able to install it professionally to ensure it works well for your needs. Talk to SP Screens today to see how we can assist you.