Keeping Your Kids Safe at Home While You're at Work During School Holidays
Unfortunately, most working parents in Australia do not get as much annual leave as our kids get school holidays.  Keeping kids safe and busy during school holidays while you are at work is often a great scheduling feat.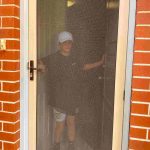 Teenagers Wanting To Be Left Home Alone
As your children become teenagers, they may ask to stay at home alone during the school holidays instead of sent off to holiday care.  This is a normal part of growing up and you are the best judge on whether it is safe to leave your child at home alone.  If you believe that your child is responsible and understands the rules of being left home alone, then you may think it is safe to leave them at home unsupervised while you are at work.
What to do if Someone Comes to the House
A concern many parents and children have about being left alone at home is what to do if someone comes to the house.  Having a Security Screen installed on your front door is a great way to alleviate this concern.  A security screen door allows children to open up the front door and safely see who is there while being protected by the security screen door.  Then the child is able to allow access to visitors that are known to them.  We like to call this "Vet them, before you let them in".
Having security screens installed on your windows and doors means that your children can safely open up those doors and windows while they are home alone and know that they are protected by the security screen from anyone trying to gain entry into the home.
Get a Quote From SP Screens For a New Security Screen Door
SP Screens has local sales consultants along the east coast of Australia from Sydney to Brisbane who are ready to help.  They have many years of experience with installing security screen doors to meet Australian security standards.  You can book your free in-home consultation directly from our home page and choose a time and date convenient to you. Alternatively you can call SP Screens on 1300 939 700 and our friendly customer service team will help.