04 November 2019
Can You Put a Dog Door Into a Security Screen Door?
The simple answer is "Yes", however, it is important to be aware of how installing dog doors into security screen doors will compromise their security features and the options available to you. Here are a few things you should consider before you decide to have a doggy door installed into your security door.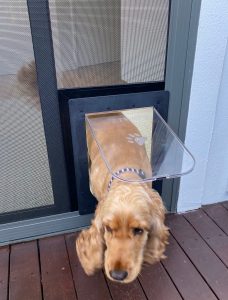 Does a Security Screen With a Dog Door Still Meet Australian Security Standards?
No. Once a pet door is installed into a Security Door, it will no longer meet Australian Security Standards and cannot be called a "Security Door". The screen door will now be considered either a Safety Door, a Secure Door, or a Barrier Door. The security threat of concern in regards to dog doors (especially large dog doors) is the possibility of an agile intruder being able to crawl in, or reach through the pet flap to gain entry to your home.
Do Doggy Doors Come in Different Sizes to Suit My Pet?
Dog doors come in either small, medium or large sizes so it's important to measure both your pet and the pet door to ensure you get the best size for your needs. The larger the size of the dog door, the more security will be compromised, and a small pet door will not compromise security as much as a large pet door.
If you keep your security screen door locked, then the small doggy door is considered quite safe and it is unlikely even a small person would be able to crawl or reach through a small dog door to gain entry to your home.
Keep in mind that if you have a large dog, that may act as enough deterrent for burglars and may offset the risk of having a large pet door installed.
Where Is The Best Place To Install a Pet Door?
Doggy doors are usually installed in back doors or side doors in a home, as this is usually where pets can best access the backyard. This has the added advantage of the pet door being hidden from sight from potential burglars.
Dog doors are almost always installed in the bottom corner of your security screen door and they are designed to sit flush with your screen door. Dog doors have a black frame to blend in with the black mesh on a security screen door and a clear plastic pet flap.
Should I Have a Pet door Installed in my Security Door?
If the main reason you are looking for a security screen door is to keep out intruders, then you should not have a doggy door installed into the screen door. However, if you are willing to compromise a little security for the sake of convenience for your pet, then a pet door installed into your safety screen door is a great solution.
Get a Quote From SP Screens For a New Screen Door With Pet Door
Please note that SP Screens only install pet doors into brand new security screen doors. If you require a pet door installed into an existing screen door then you should contact your local handyman for a quote.
SP Screens local Sales Consultants and Installers have many years of experience with installing pet doors into Safety Screen Doors and our team is happy to recommend a dog door solution to suit your requirements. You can book your free in-home consultation directly from our home page and choose a time and date convenient to you. Alternatively you can call SP Screens on 1300 939 700 and our friendly customer service team will help.