Things To Consider When Choosing Aluminium Slat Fencing
Homeowners are choosing Aluminium slat fencing more often, making it a very popular choice.  People look for stylish, low maintenance ways to screen their yard and home from the prying eyes of passers-by and neighbours.  Aluminium slat Fencing adds security and street appeal to a property.  To make sure it stays strong and looks great for many years, you should consider a few important things when choosing aluminium slat fencing.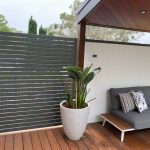 1. Quality of the Aluminium Slat Screens
Unfortunately, there are some flimsy aluminium slat systems on the market that will sag over time. It is important to see and feel the aluminium slat before ordering to verify its quality. SP Screens aluminium slats are a strong 16mm thick and are 65mm wide.
2. Workmanship of Installation
A quality aluminium slatted fence is only as good as its installer.  Ensure the installer is experienced with a good reputation by asking around locally and by checking online reviews. A few things to ask your installer to ensure a quality installation are:
– The span of the screen before a post or midrail is required
– What latch and locks are available for the gates?
– The spacing between the slats?
– The depth the fence posts cemented in
– Who will dispose of the old fence?
3. Customisation of Aluminium Slat Screens
Your home is unique to you which is why an off-the-shelf slat product just won't cut it. Look for a reputable supplier who will build your aluminium slat fencing to fit perfectly against your existing walls or fences.  It is best to ensure you have the flexibility to choose the height, length or slat spacing you like.  Choose an aluminium slat company that will allow you to customise your aluminium slat gates.  Aluminium Slat Fencing is best built and installed to your exact needs and detailed specifications.
4. The Spacing Between the Aluminium Slats
SP Screens aluminium slats are customisable which means you can choose the spacing between the slats to ensure it meets yours and your local council's requirements. Your Local council will have unique different rules governing fence height as well as the spacing gap allowed between the slats.  Its important to be aware of these regulations before you choose the height and gap between slats.
5. The Aluminium Slat Colour Range
Choosing a Colour
It is important to be able to choose the colour aluminium slat that suits your personal style. Many people choose to match the colour of their aluminium slats to their colorbond roof or to the colour of their window and door frames. Be aware that many aluminium slatted screen suppliers have a very limited range of colours so be sure to shop around to find a supplier that can supply a screen in the exact colour you desire.
Quality of the Powder Coating
Your outdoor aluminium slat fencing will be exposed to all types of weather over its lifetime and you want to look good for a long time. It's important to check that your supplier uses a quality powder-coat. SP Screens custom powder-coats aluminium slats to most colours (including all popular colorbond colours) using a gold accredited Interpon powder coating that delivers a smooth, long lasting finish. We even have Wood Effect available. It is important to note that even the best power-coat finish will gradually fade over time.
Fore more information to assist with choosing aluminium slat fencing visit SP Screens Aluminium Slat Fencing, Gates and Privacy Screens product page here.