04 November 2020
How Much Does Aluminium Slat Fencing Cost?
The Cost of Aluminium Slat Fencing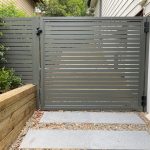 Aluminium slat fencing is difficult to get an exact price on without a site inspection however, most fencing businesses offer complimentary on site measure and quotes. It is highly recommended to take them up on this offer as this is the best way to get an exact quotation.
Like most fencing, aluminium slat fencing is charged on a per metre basis. A fence builder will usually calculate how much fencing is required and provide a set rate based on the type of aluminium slat screens you require.
Slatted Infill Panel for a Brick or Rendered Fence (Fully Installed) – Allow for $460 to $650 per square metre fully installed. Your price within this range depends on whether you choose a standard colour, custom colour or a wood effect colour.
Slatted Fence Panel or Privacy Screen (Fully Installed) – Allow for $630 – $690 per square metre fully installed, depending on the colour you choose for the aluminium slats. You should also add an extra $70 for each fence post you require. Allow $150 if concrete is required to fix fence posts into the ground.
Variables That Add To the Cost of Aluminium Slatted Fencing
Some variables that may increase the price of your slat fencing due to the extra labour and materials required are:
Very rocky or very soft soil
Sloping or undulating site
Difficult access to the site
Removal of an old fence is required
Foundations are needed
You require your slats to be a custom colour
Scaffolding is required for a high installation
More than one installer is required (allow for an extra $85 per hour)
The number of gates (if any you require)
It pays to do your research and get quotes from three different fence builders so you can see what each can offer.
Why Choose Aluminium Slat Fences & Gates Over Timber?
Although aluminium slat fencing generally costs more than timber fencing, the extra cost is paid back in future savings made by the lack of any future maintenance required.  Aluminium lasts longer than timber and is low maintenance as it will not rot, warp or need repainting to keep it look great. So in the long run, the investment in modern slat fencing is worth it
Aluminium slat screens can be adapted to suit all types of projects such as railings, front and garden fencing, pool fencing, pool filter covers and bin enclosures. Aluminium Slat gates are a popular addition to a modern aluminium slat fence.
Get a Quote From SP Screens Today!
SP Screens Sales Consultants and Installers have many years of experience installing aluminium slat fencing and aluminium slat gates. Our team is happy to recommend a slat fencing solution to suit your requirements, home style and budget.
You can book your free in-home consultation directly from our home page and choose a date and time convenient to you. Alternatively you can call SP Screens on 1300 939 700 and our friendly customer service team will help.