09 January 2020
Why Aluminium Slat Fencing Is The Perfect Choice For Your Home
The rising popularity of Aluminium Slat Fencing is for good reason. Of course, aluminium slat screens look great but they also provide many practical benefits to help Australian's enjoy their home and yard more than ever before. Read on to find out why Aluminium slat Fencing is the perfect choice for your home.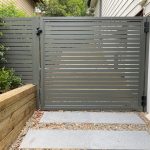 Aluminium Slat Fencing Provides Modern Street Appeal
The outside of your property is the first thing people will see. An aluminium slat fence will add to your homes street appeal and make it more appealing.
Modern aluminium slat screens can be made in a large range of colours to suit your property. A popular choice is to have your aluminium slats the same colour as your roof however, the colour options are limitless if you choose to go bold!
Aluminium Slat Fencing Provides Privacy
Peeping Toms will not be able to see into your yard when you install a slat fence. Aluminium Slats are great for creating privacy for your yard and most importantly, this means you will be more comfortable enjoying your home and outdoor spaces.
Aluminium Slat Fencing Offers Safety
Many burglars are opportunistic. Screening your home with an aluminium slat fence may prevent criminals from scoping out and gaining easy access to you home.
If you have an aluminium slat gate in your fence, have a deadlock installed in the latch for extra security.
Aluminium Slats Are Low maintenance
Maintaining and cleaning aluminium slats is must easier than timber fencing and it will look great for longer. Your aluminium slat fence won't warp, rot, chip, or requiring ongoing painting like a wood fence.
Aluminium slats should be washed down with warm water in conjunction with a 'soft' cleaner such as car cleaning or dishwashing detergent to keep clean.
Contact SP Screens now to have a beautiful Aluminium Slat Fence, Gate or Screen installed at your home or business. Let our professional team assist you in getting maximum street appeal, privacy, and safety from your slat fencing. Book a free onsite quote now!