How to Choose a Security Screen Door – 7 Things You Need To Know
Do you know what to look for when choosing a security screen door? We explain what to look out for when shopping around and choosing a security door.
What makes a security screen door…a security door?
To be a true security door, it must meet Australian Standards 5039. There are 6 tests to assess the strength and structural integrity of security doors:
The Knife sheer test to ensure nobody can cut through the mesh
The Impact test to make sure no one can break the door in
The Anti-jemmy test ensures the frame can't be levered or pried open
The Pull test follows the jemmy test, but only if there's a gap after the jemmy test. It's to make sure no one can pull at the security screen either at the bottom, middle, side or top of the screen. The test also assesses the integrity and fixing of the mesh into the screen frame.
Probe test*
Sheer test*
*N/A for SP Screens range of security screens. The Probe and Sheer test is not required if the whole aperture of the mesh is smaller than the test requirement.
Security mesh options
There are many different names for the mesh used in window security screens and security screen doors, but ultimately they are made from two different materials, woven stainless steel and perforated aluminium.
Each supplier will have different specifications for each product including, mesh thickness and hole aperture.  If it meets Australian Standards, it's safe, just comes down to aesthetics, see through visibility and your proximity to salt exposure.
At SP Screens, we use SecureView, a 316 marine grade stainless steel woven mesh, which exceeds the testing requirements. The benefit of 316 is that it is more durable along the coastline where there's salt exposure.
Perforated aluminium is an entry level security option which is a great alternative to Diamond Grilles. They will filter more light than woven stainless steel, so it's important to look at samples to check the thickness and visibility for yourself. SP Screens has showrooms in select locations from Sydney to Brisbane where you can view our products or as a sales representative to show you a sample during a consultation.
How is the security screen door assembled?
The other thing to consider is the frame and fixing method – or how it's put together. There are a few different styles on the market – all strong, as long as they meet Australian Standards.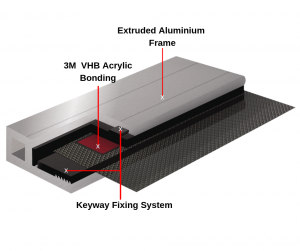 Our SecureView and Xceed security screens are assembled using a patented fixing system. 3M™ VHB™ acrylic bonding and a two-part wedge system is designed to create the precise pressure required to activate the VHB™ adhesive to its full potential. This eliminates the need for screws or rivets to fix the mesh into the frame. Click here to learn more about our fixing system.
Many suppliers use mid rails in their large protection screens to ensure the tension of the mesh is tight and doesn't flex.
| 1 | 2 |
| --- | --- |
| Our security screen door without a mid rail | Example of security screen door with a mid rail |
| | |
Can you put a doggy door in a security screen door?
It is possible to have a pet door installed in your new security screen door and companies such as SP Screens can offer this. Pet doors come is three sizes; small, medium, and large and it is important to choose the correct size for your pet and be aware that the larger the size of the pet door installed, the more the security of your screen door will be compromised. It is important to be aware that a Security Screen Door will no longer meet Australian Security Standards once a pet door has been installed and will be referred to as a safety door.
Single lock or triple lock?
It's really important that your quote includes a triple lock to maintain the status of a security door. If a single lock is used then it automatically becomes a barrier door or safety door. Watch SP Screens video for lock safety tips.
Using a licensed security installer
Ensure your aluminium door security screens are installed by a licensed security installer. Many security doors on the market are barrier doors or safety doors. Make sure you ask your rep to confirm you are buying an accredited security door.
Warranty
Check you are buying from a reputable company. You can usually find reviews online, such as Google reviews. Also ask who supplies the security door. Security screen doors and window screens are occasionally referenced as Crimsafe by the general public. It's important to note that Crimsafe is one brand of this type of product, not security screen doors as a whole. A similar example is Champagne… Our security screen doors are supplied by CommandeX and come with industry leading warranties. CommandeX – a leading wholesale provider of security screen systems – developed and patented the security screen systems supplied by SP Screens.
At SP Screens, we provide security doors and security screens that can help you to feel more secure in your home, without sacrificing views, aesthetics, or airflow. Book your free consultation online or contact us today for a free quote.