Port Macquarie and Grafton Showrooms
SP Screens have always striven to provide our coveted security screens and security doors to as many customers as possible throughout Australia. With a new showroom and teams in Port Macquarie and Grafton, SP Screens are now providing free competitive quotes and expert advice to local residents.  Although our local staff are new to SP Screens, they each are considered industry professionals with over 10 years experience in the selling and installing security screens, security doors, privacy screens, plantation shutters.  Our local installers are all security licenced by NSW police to ensure you can trust our people and our workmanship.
Our new Port Macquarie showroom & Grafton mobile showroom showcases our renowned security screens and security doors, along with our various shutters, blinds, and privacy screens. These new outlets, located in Grafton and Port Macquarie, provide convenient options for clients or prospective clients looking for some insight into our product line. Now, they have a far shorter drive ahead of them to pay us a visit.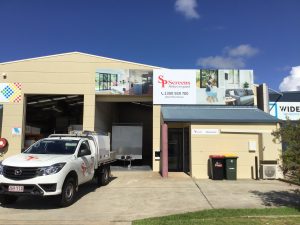 Port Macquarie waterfront
In beautiful Port Macquarie, our new store is located at Lot 3, Unit 3/25 Uralla Rd. With friendly staff members on hand, you can get a look at your product of interest, up close and personal. You can quickly and easily organise a free quote, as well.
In Grafton, our service comes courtesy of a novel new concept – the mobile showroom. This unique method involves us bringing the showroom to you. Stay on top of our social media accounts, and you can see where the mobile showroom will be. Or, get in touch with us here, and book an appointment for the mobile showroom to show up and give you a tour of our product line.
New South Wales is our starting point, and we are proud as punch to expand our capabilities and our reach throughout this beautiful state. If you are in the market for security doors or screens, or are just vaguely curious, SP Screens' friendly staff are happy to walk you through our renowned product range for a first-hand look.
So for Security Screens and other screens, shutters and blinds in Port Macquarie or Grafton, come on down!