Ways to Save Money on Home Security Door & Window Screens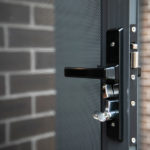 Securing your entire home with Security Doors and Security Screen Windows can be expensive.  Don't get me wrong, the peace of mind knowing that your home and family are safe from intrusion; along with the added joy of free air conditioning in the warmer months is definitely worth the investment.  However, there are some smart ways that you can save money on door security screens and screen for windows;  without compromising on security or style.
There are many different types of Security Screen Doors and Security Screen Windows.  This means costs, can vary.  As long as a security door meets Australian security standards, you can trust it to do the job intended.  This means you can spend more in your priority areas on top of the range security doors.  You can save money on door security in less visible areas by purchasing a more budget conscious security door.  Screens for windows and doors that do not meet Australian security standards are often cheaper and referred to as barrier doors or safety screens and offer varying degrees of safety.
Where to Spend the Most on Security
Front of House
The front of your home projects street appeal.  An attractive looking frontage can add value to your home so you do not want to skimp here. Use top of the range security screen doors and window like SecureView 316 on all your doors and windows that are visible from the street.  Stainless Steel security screen windows and doors look stylish and maintain their looks for many years.  Security screens on the front of your house will deter opportunist criminals as they move to look for an easier target.
Ground Level Windows
Ground level windows are where most break-ins occur, so invest in quality security screen windows and know that your home is protected from break-and-enters. You can even sleep with the window open to enjoy the cool breeze through the screen for windows and know that you and your family are safe.
High Windows That May Be a Fall Risk
Kidsafe NSW states that one child falls from a house window or balcony every week in Australia.  Often falls happen through a flimsy fly screen for windows. Sadly, many falls result in serious injury and occasionally death. If you live in a multi-storey house or apartment, you should install quality fall safe window screens on your high windows to ensure there is no risk of falling out the window.
Have You Considered Your Fire Escape Plan?
When securing your windows with fixed security screen windows it is important to consider your fire escape plan. Fixed window screens will prevent intruders gaining entry through the window however, it will also prevent exit out the window.  You must ensure all household members understand how to exit the home safely in the event of an emergency like a house fire. Fire and emergency escape window screens have an easy latch which allows for a quick exit out the security window screen while it still acts as a true security screen for windows on the outside.  Fire and Emergency Escape Screens are generally about three times the price of a standard fixed security screen window so it is common to only install these on one of the ground floor windows.
Areas You Can Save Money on Security
High Balcony's With No External Access
If you have a second story or higher balcony that is not accessible from ground level and would be difficult for an intruder to gain access to; you may be able to get away with installing a cheaper barrier screen like a diamond grille safety screen here. You should still consider a screen that will prevent children from entering the high balcony unattended.  If however, security is not a major concern in this balcony area, you may save money on door security and not have to splurge on top of the range here.
Back Doors and Side Laundry Doors
Ground level back doors and side doors will still require strong security features however, as they are not as visible as the front of the house you may chose a more budget option like a perforated aluminum security doors screen. They will still offer top security but for a more budget friendly price.
Windows With No Fall Risk
If you have a window (like a window looking out onto a high balcony) that does not present a fall risk and is not easily accessible to intruders; you may consider a cheap standard flyscreen for this window as a way to save money and keep insects out without the security features.
SP Screens Has a Range of Security Screens to Suit your Budget and Requirements
SP Screens has sales consultants along the east coast of Australia from Sydney to Brisbane who are ready to help. They have many years of experience with installing security screen doors to meet Australian security standards.  You can book your free in-home consultation directly from our home page and choose a time and date convenient to you. Alternatively you can call SP Screens on 1300 939 700 and our friendly customer service team will help.